Datsun 1200 PartsIncluding Parts ForDatsun B110, Datsun 120Y Sunny, Datsun GL, Datsun GX, Datsun GX5, Datsun B120
Welcome to our great selection of new Datsun 1200 parts, B110 parts, Datsun B120 Sunny parts, Datsun GL parts, Datsun GX parts, Datsun GX5 parts, and Datsun PB110 parts. We are often asked if our parts are new and original. The answer is yes. Absolutely. Check out the following links for your specific Datsun needs. We at NEW DATSUN PARTS are always looking for new suppliers of parts for the models listed on our site. If by chance you have some new Datsun parts I'd be very interested.
Nissan chassis code B110 Datsun 1200 car was made by Nissan Motor Co. In Japan it was known as "Datsun Sunny 1200" sold in Japan from 1970-1973, North America Model years 1971-1973, New Zealand to 1974, and South Africa to 1976.
Nissan chassis code B120 1971 to 1986 "Datsun Sunny Truck" as it is named in Japan. In Australia this was called the Datsun 1200 Ute. In South Africa it was known as the Bakkie. The B120 is a Coupe utility type of pickup truck. A Coupe Utility is based on a car design and has an integral cargo bed. In certain markets the B120 was actually badged as 120Y

---

SEE PARTS PAGE LINKS AT THE BOTTOM OF THIS PAGE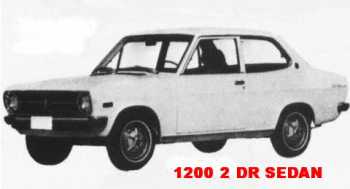 ---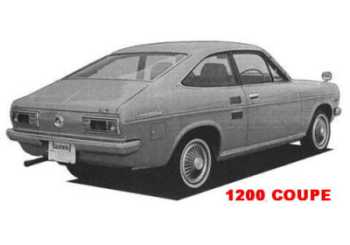 ---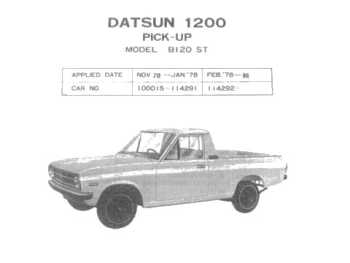 ---

Datsun Rubber Parts
Datsun Parts Lock & Key
Datsun Lights and Lamps
Datsun Interior Parts
Datsun Emblems
Datsun Parts, Exterior

To Order Datsun 1200 Parts
Ordering and Shipping Information