Datsun Roadster Fairlady
Datsun 1600, Datsun 2000
Welcome to our great selection of NEW DATSUN ROADSTER PARTS. We are often asked if our parts are new and original NISSAN . The answer is yes. Absolutely all parts are new. ANY AFTERMARKET PART WILL BE CLEARLY STATED IN THE PARTS DISCRIPTION. Check out the following links for your specific Datsun parts needs..

Datsun Fairlady Brakes
Roadster Rubber Parts
Roadster Lights and Lamps
Roadster Cooling Components
Roadster Drive Train
Roadster Electrical
Roadster External Engine Parts
Roadster Internal Engine Parts
Roadster Fuel Parts
Roadster Gaskets
Roadster Handles and Knobs
Roadster Mirrors and Chrome
Datsun Roadster Fairlady Odds and Ends
Roadster Steering and Suspension
Datsun Roadster Fairlady Emblems
Datsun Roadster Used Parts


---


In Proud Association With

---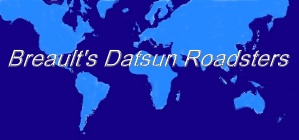 ---

---
If you cannot find the roadster part you are looking for please send us a requested.click  To Order 
We carry mechanical used parts for roadsters.
WE CAN ALSO PROVIDE SOME HARD TO FIND DATSUN PARTS FOR: SP310 OR SPL310 ROADSTERS SRL311 SR311 SPL311 SP311 P311, P312 BLUEBIRD, 310 PRINCE GLORIA, S211, SPL211, S212, SPL213, SP213, SP310, SP311, SR311 2000 FAIRLADY SPORT ROADSTER, PG222 PICKUP, VG221, W66 PATROL, C43 PRINCE GLORIA, 680, 690, 30 CEDRIC, 31 CEDRIC, 60 PATROL, 320 PICKUP, 40 JUNIOR, 50 CEDRIC SPECIAL, CEDRIC SPORT, S50, S54 PRINCE SKYLINE 2000GT, C142, CSP311, 130, 411, R411, RL411, PL411, H150 PRESIDENT, 520 PICKUP, S54 PRINCE SKYLINE 2000 521 PICKUP, C240, T641, C80, B20 SUNNY, A30 GLORIA, 510, C30 LAUREL, C10 SKYLINE, 130 CEDRIC, GC10, KP510 1600 SSS, S30 240Z, 260Z, 280Z, B110, E10 CHERRY, PB110, 610, KE10, 230, 620 PICKUP, C130, C110, H250 PRESIDENT, 710 VIOLET, B210, PB210, G610, F10 DATSUN AD1, GR1, 330, S10 SILVA, GR2, 810, G810, C230, A10, B310, S130, N10, S110, 430, C31 LAUREL, 160 PATROL, N12 CHERRY, M10 PRARIE, K10 63 64 65 66 67 68 69 70 71 72 73 74 75 76 77 78 79 80 81 82 DATSUN NISSAN 1962 1963 1964 1965 1966 1967 1968 1969 1970 1971 1972 1973 1974 1975 1976 1977 1978 1979 1980 1981 1982


To Order